Play Now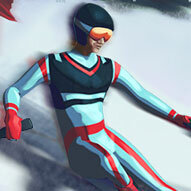 Ski King is here to test your skiing skills! You need to carve your way through mountains and move on as long as you can! Will you able to get the highest score without hitting any obstacles? Good luck!
Do you know that the earliest archaeological examples of skis were found in Russia and date to 6000 BCE? It is one of the most entertaining and hardest sports! So, it is not possible to do it all the time, but now we are offering you its online version! Are you ready to break a new record by passing the others? Then click on the play button to start the game. So, your objective in this game is to find the shortest track down and try to avoid all obstacles in your way to get the highest score possible. You will only use your right and left arrow keys to control your character. If you pass a flag from the wrong side, the level resets. Don't forget to use upgrade points to improve your skills. Each skill affects your skiing style differently. You will ski on five mountains each with 10 levels to complete. this means that you have 50 levels for you to test your skiing abilities and improve to become the king of the mountain! Are you ready to be the best skier in the world? Good luck and have fun!
If you liked Ski King, check our collection of free and online sports games by clicking here!
Developer
Inlogic Software developed Ski King.
Release Date
March 30, 2021
Features
Realistic 2D graphics
Easy and fun to play
Five mountains each with 10 levels to ski on
Sharp and intuitive controls
Controls
You can use your arrow keys to play this game.