Play Now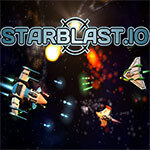 With StarBlast.io, be ready to conquer the whole space where huge asteroids, enemy spaceship units, and lasers will be waiting to destroy you! By entering this online, multiplayer, futuristic space adventure, you are stepping into a merciless battlefield where you need to grow stronger constantly to survive. Choose a mode, and look sharp to write your name at the top of the leaderboard!
You'd better be brave to step into this fun IO game before anything else. Because your one and the only ultimate goal is to be fighting for your life! You have 4 different game mode options to select and prove your skills. But, if you are a beginner, you can try the training area by clicking the last button on the right side of the game screen to understand the rules and your spaceship. After you are done with your training and become one of the best commanders of this platform, you can pass to the modes. The first one is the survival mode, where you should be the last player standing by beating the others. The second one is the team mode, in which you gather with your teammates and stand up against the other two groups. The deathmatch mode is all about scoring by shooting the enemies and avoid their fires. Lastly, in the invasion mode, you and your teammates should fight against hordes of NPC aliens. Collect the gems by destroying everything you see and upgrade your stats and buy secondary weapons!
To try another thrilling space adventure, check Valerian Space Run by clicking here.
Developer
Neuronality developed Starblast.io.
Release Date
2016
Features
3D colorful graphics
Enemies from all around the world
32 spaceships
4 game modes to enjoy
Controls
Use the left mouse button to shoot, and the right mouse button to accelerate. You can use the arrows to move and SPACE BAR to shoot.