Play Now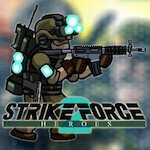 In Strike Force Heroes 2, you'll find yourself among the ranks of an organization. Your enemies have attacked, and only you can stop them from destroying everything. Rally your squad, equip your weapons, and get ready to face your opponents! Do you have what it takes to defeat your rivals and bring peace to the world?
Being a new recruit is not an easy thing. You have to prove your worth and skill to the seniors to be taken seriously, especially if you've just joined the Strike Force Heroes! Luckily, GLOBEX decided to attack, and you can show what you're made of through amazing levels filled with action! The objective of this game is pretty straightforward. You try to finish each level by completing goals in them. If you're ready to jump right into the battle, then pick the campaign from the main menu. There you'll see different levels and their goals. In the beginning, only the first level is available, but you can unlock the rest as you play. The game features different difficulty levels and a challenge mode with 15 levels in it. Good luck, soldier!
Can't get enough of this game? Then why don't you go and check our collection of online action games? Have fun playing!
Developer
Armor Games developed Strike Force Heroes 2.
Features
15 different campaign missions to complete
15 different challenge levels to complete
Colorful 2D graphics
Intuitive controls
Entertaining gameplay
Various unit types that you can use
Can customize the look of your soldiers
Controls
You can use the WASD or the arrow keys to move your character around. Use the mouse to aim and shoot.