Play Now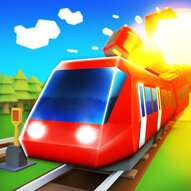 In Conduct THIS!, it is time to challenge your inner conductor! This is an explosive train railway, and you have to manage it! Too many missions are waiting for you to complete! Will you be able to go through with all these challenges? Good luck and have fun!
The railway manager is on a vacation and you are the one who will take over for him! So, the job is not so hard, but it is of vital importance. You shouldn't even make one mistake, or else the railway explodes! Are you ready to handle this vital mission? Then click on the screen and start to control the train. Your objective in this game is to keep the train and railway safe by conducting the railway. But his is not as easy as it sounds, you need to be very careful. Command trains, switch tracks, and avoid collisions! As you pass the level, the difficulty will increase. Besides, there is not just one railway, you will manage the whole city! You will see different challenges as you proceed with the game. You just need to be careful and act smart to handle this job. Concentrate on the game and push your limits to race against time and bring passengers safely to their destination. You will also earn some coins to use in future upgrades. Are you ready to conduct trains? Have fun!
If you want to play more puzzle games, and try another one similar to Conduct THIS!, then be sure to check Adam & Eve: Night, too.
Developer
Northplay developed Conduc THIS!
Release Date
February 25, 2021
Features
3D graphics
Entertaining gameplay
Challenging gameplay
Various levels to complete
Controls
You can use your mouse to play this game.