Play Now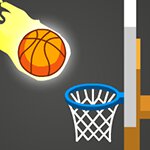 In TapTap Shots, be ready to enjoy an endless basket tapping for hours! You only need your fingers to tap quick enough to make a score. This is a game that requires quick moves to realize consecutive shots in a very limited time. But, since you are a basket expert on our platform, we believe you will break many records during the game. It is time for you now to prove your skills!
Being an athletic player has many responsibilities. Feel no pressure but with your eye coordination and fast fingers, the whole stand trusts your sport skills. Your objective in this fun sports game is to tap or click enough times with the utmost speed to make your shots. You are only responsible for your own score and your only aim is to increase the total points by breaking the scores after each round. The moves of the ball and the angle of the hoop change after every shot. After your first basket, you have to catch up with the time. You will have a limited time, and when the shot is completed, the timeline will refill. If you trust yourself to become the basket master, let's see what you have!
Be sure to check our collection of free and online sports games by clicking here to show us how athletic you can be!
Developer
Maximiliano Demonte developed this game.
Release Date
March 2018
Features
Colorful 2D graphics
Endless basket adventure to enjoy
A limited time to realize the shots
Entertaining and addictive gameplay
Controls
You can simply use your mouse or finger to play this game.