Play Now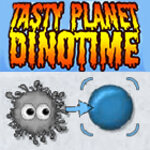 In Tasty Planet Dino Time, get ready to take control of an ever-hungry blob, and devour everything on your way. Result of an experiment, things have gone out of control for our character with an endless appetite. The world is an open buffet for our peckish friend, and it needs your help to grow. Can you complete all the levels as fast as you can?
The microscopic world doesn't offer many delicacies, so our blob is keen on tasting other delicious, prehistoric, and bigger things. Your objective in this game is to complete each level by reaching the target size as fast as you can. You can control the blob with the WASD or the arrow keys. You start tiny, but as you eat different objects, you'll grow in size. Your growth meter is located in the top left corner of the screen. The arrow around your character points you to the direction of the biggest item you can eat on the map. As you grow up, you can eat larger objects. From candies to dinosaurs, this blob has a wide palate! Don't let your unending hunger distract you from dangers! Some hunters do not enjoy competition, so they might try to defeat you. Grow enough to eliminate all the threats, and make sure to leave some room for dessert! Enjoy!
Don't stop eating! Join the fun competition against other players in our similar and wildly popular game, Agar.io. Have fun!
Developer
Dingo Games developed Tasty Planet Dino Time.
Features
8 different levels to complete
Intuitive controls
A hungry main character
Colorful 2D graphics
Entertaining and addictive gameplay
Controls
You can use the WASd or the arrow keys to move around the levels.