Play Now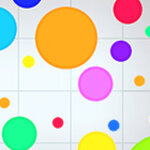 In Agar.io, get ready to step into the relentless cellular world where you only have two choices, to eat or get eaten! As one of the most popular games of its genre, the multiplayer gameplay features of this game offers constant competition and excitement. If you're ready to become the biggest player on the map, then start now!
This wildly popular game features 5 different game modes that you can try. Each mode has its own objective and mechanics. The first one is called the FFA mode. In this free-for-all mode, you start as a small cell and try to gain as much mass as possible by eating pellets and other players. You'll become slower as you grow. Once you reach a sufficient mass, you can split and multiply yourself! In Battle Royale mode, you race against the other 3 players to become the biggest cell as the map gradually shrinks. Team up with others in the Teams mode and try to take over the map. The Experimental mode is where the game devs test new features, so you can check them too! Lastly, in Party mode, you can play with your friends on a private server. Enjoy!
If you enjoy the competition, then go ahead and try our other fun game, Black Hole.io. Have fun playing!
Developer
Agar.io was created by the Brazilian developer, Matheus Valadares.
Release Date
April 2015
Features
5 Different Game Modes
Multiplayer Gameplay
Online Gameplay
Cross-Platform
Controls
Use your mouse to move around, press W key to throw a particle to the direction of your cursor and press SPACE to split and multiply yourself.