Play Now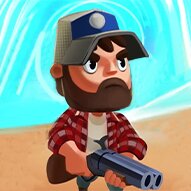 Choose a name and disguise for yourself, grab a gun, and go after your fellow gamers with Top Guns IO! This online gun duel has two mind-blowing modes that will keep you coming back for more. Invite your friends and get your daily rewards because we have battles to win!
If this is your first time playing, you will be starting from level one. But don't worry, the level-up system is pretty smooth, and the game saves your process for you. The main menu is where you manage your character settings. On the top left, you can see your level and daily tasks. You can come back and check the tasks as you play more games and earn your prizes. Below them are the heroes and guns. Some heroes have exclusive talents like life-steal and higher range, while some weapons put poison or ignite debuffs on enemy players. Change your name by clicking on it, and you can start playing! There are two game modes; the first is a free-for-all mode where you can come back and try again whenever you want, and the second mode is battle royale which opens after level five. Master your aiming skills in both modes and unlock new characters and weapons to get the upper hand!
If you like multiplayer games, you can check out our Io Games category by clicking here.
Developer
MOBASO developed Top Guns IO.
Release Date
April 11, 2022
Features
Colorful 3D graphics
Cute cartoon character design
Easy to play
Two game modes
Unlockable characters and guns
Controls
You can use the arrow keys to move and the spacebar the shoot.