Christmas Balloons Bursting
Play Now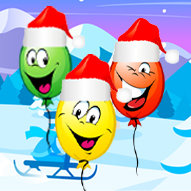 In Christmas Balloons Bursting, it's that time of the year again. Christmas joy is all around me. 'Tis the season to be jolly. To make this time of the year even more fun, we decided to add balloons to the mix. How many balloons do you think you will be able to burst in this game?
Have a holly, jolly Christmas, everyone! All you need to do is eat, drink, and be merry! But for those of you who also want to have fun playing games, we have a perfect suggestion. Balloons! They are so fun to play with and they are also so colorful that they are sure to add even more fun to your Christmas. So, if you are ready, let's begin. Your objective is quite simple. All you need to do is pop the floating balloons and earn a high score. You just have to click on the balloons to burst them. You need to pop as many of them as you can to earn a high score. So, try to be quick and dont let the balloons get away. Be careful, though. If you click on 3 red balloons to pop them, the game is over. You can see how many red balloons you have burst on the bottom right corner of the screen. You can see your high score and last score on the upper left corner of the screen. Your current score appears on the upper right corner of the screen. Good luck!
Are you feeling the holiday spirit? Then join Santa in Christmas Tree Fun and help him spread the Christmas cheer. Have fun!
Developer
Developed by New Kids Games.
Release Date
November 30, 2020.
Features
Fun and addictive gameplay
Colorful 2D graphics
Easy controls
Many different balloons to pop
Controls
Use your mouse to play this game.