Play Now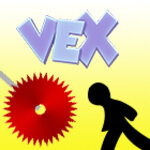 In Vex, you better catch your breath because you'll be facing many different challenges! Run, jump, roll, and slide! Filled with deadly obstacles, do you have what it takes to complete the various levels in this fast-paced action-filled game? If your answer is yes, then what are you waiting for? Click on that start button and begin your journey through the dangerous world of this game!
Your reflexes are your best friend in this game. Getting caught in traps mean immediate death, so you better watch your step. The objective of this game is to complete each level called acts by reaching the portal at the end. This sounds like an easy job, but expect some challenges! To start, click on the play button on the main menu. You'll be taken to the level selection area. There are many levels to be completed in this game, but in the beginning, only the first act is available. You can unlock the rest by completing open levels one by one. Move your character with the arrow keys. On each level, you'll encounter different traps. Dodge them as best as you can to activate the next checkpoint, and reach the portal in the end, eventually. When you die, you'll revive at the last checkpoint you've activated. Have fun!
Can't get enough of this game? Then why don't you try the 4th installment to the series, Vex 4? Enjoy!
Developer
Amazing Adam developed Vex.
Features
Colorful 2D graphics
Intuitive controls
A stage builder to create your own custom levels
Addictive, entertaining, and challenging gameplay
Controls
You can use the arrow keys to control your character.