Play Now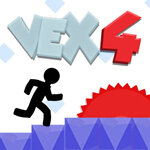 In Vex 4, you better hold on tight! The action continues on the 4th installment of the popular series, and your job is much more challenging this time. Take control of your character and do your best to dodge, and avoid obstacles and traps. Your reflexes and acrobatics are your only chance of survival. If you're ready to dive into the danger, then don't waste any more time!
Traps are only a challenge if you're lacking skill. Luckily, the main character of this game is pretty talented in parkouring. The main objective of this game is to complete each level called acts as fast as you can. This is not an easy job, as each act has deadly traps and obstacles to hinder your progress and kill you. But the controls are pretty simple. To start the game, click on the play button on the main menu. You start in the main area where you have to travel to acts. Only the first act is available in the beginning while others are blocked. You can unlock those by completing the acts, one by one. Each act also has a hard mode, but you need to complete an act under a certain time to unlock them. Good luck!
Living for the action? Then why don't you check our collection for more games like this by clicking here. Have fun playing!
Developer
Amazing Adam developed Vex 4.
Release Date
October 2018
Features
Cool physics mechanic to play with
9 acts to play
Challenge room
Different trophies to earn
Addictive and entertaining gameplay
Intuitive controls
Controls
Use the AD or LEFT/RIGHT arrow keys to move. The W or UP arrow key is used for jumping. Use the S or DOWN arrow key to crouch.