Play Now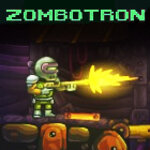 In Zombotron, zombies are everywhere and only you can stop them! Grab your weapons, wear your armor, and get ready to head into the action. These undead beasts might lack intelligence, but they're very dangerous. Can you complete all the levels, and rid the world of their presence?
Nothing can stop in front of your way, even some fierce zombies! Your objective in this game is to complete each level by killing all the zombies in them and reaching the end. Fighting the undead might be a challenging task, but the controls of this game are pretty simple! To start playing, click on the play button on the main menu. Then you can select a level. At the beginning of the game, only the first level is available, but you can unlock the rest as you play. Use the WASD keys to move around the level, and use the mouse to aim and shoot your enemies. Pressing the E key will activate buttons and levers when you're near them. Each level has optional missions that you can complete to earn coins. You can buy new weapons and upgrades with those, so collect as many as you can! Can you defeat each one of these zombies and complete your mission? Have fun playing!
Continue getting rid of zombies in our other popular title Zombie Situation by clicking here. Enjoy!
Features
12 different achievements to earn
Colorful 2D graphics
Intuitive controls
10 different levels to complete
Various missions to complete
Controls
Use the WASD keys to control your character. Use your mouse to aim and shoot.