Play Now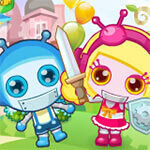 In Bomb It 6, the mayhem and the loud explosions are back! Get ready to head into the arena and show your opponents that you're the master of explosions. Do you have what it takes to win each match in the various game modes of this title?
Not very different from the other titles of the series, you'll have explosive fun in this game too! Different from the previous titles, this 6th game features 5 different game modes instead of 4. With so many challenges to complete, you better start playing now! The first mode is the classic arcade mode, in which you try to kill all your opponents. The second one is the Battle Royale mode. Your objective here is to kill 10 enemies to win. In the Green Zone mode, you have to occupy ten green zones to win. Looking for earning coins? Then select the Treasure Trail mode. You have to collect 10 coins to win in this mode. Don't forget that you can adjust the different options. You can adjust the difficulty, the number of rounds, amount of players, and so on!
Be sure to check the next title in the series, Bomb It 7. Have fun playing!
Developer
Bomb It 6 is developed by Spil Games.
Release Date
November 2013
Features
5 different game modes
Unlockable outifts
Many characters to play
2D graphics
Controls
In one-player mode, use the arrow keys to move and the space bar key to place a bomb. In 2 players mode, use the WASD keys to move and the space bar key to place a bomb as the player 1. Use the arrow keys to move and the ENTER key to place a bomb as the player 2.