Play Now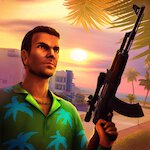 In Miami Crime Simulator 3D, the big city is your playground! Grab your weapons, watch out for your enemies, and try to complete all the missions without failing. Can you make a name for yourself in the city and prove that you're the kingpin?
It's not easy to be a crime lord, so you better start now. The objective of this game is to complete all the missions. To start playing, click on the play button on the main menu. Next, you can pick a mission to play. This game features 50 different missions that you can complete, but only the first one is available in the beginning. You can unlock the rest one by one. When in the game, you can see the map in the top left corner of the screen. You can track your targets from there. In the bottom right corner, you can see your weapons and the ammo you have. You earn money each time you complete a level and can spend these in the shop to buy different items. Enjoy.
Looking for more? Be sure to check our collection of online action games by clicking here. Have fun!
Developer
Great Games developed Miami Crime Simulator 3D.
Release Date
March 15, 2019
Features
Colorful 3D graphics
10 different achievements to earn
50 different missions to complete
15 different items to buy from the in game shop
Intuitive controls
Entertaining gameplay
Controls
You can use the WASD keys to move around. Use your mouse to turn and aim. Use the left mouse button to use your primary weapon and the right mouse button to use the secondary weapon. Press SPACE BAR to jump and the left SHIFT to use slow time ability. You can enter and exit vehicles with the E key.