Play Now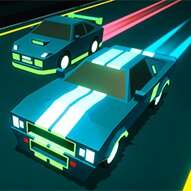 Hop into your car and get lost in the neon lights of a dark city with 2 Player Dark Racing! Lose yourself among the sceneries of futuristic backgrounds and face challenging opponents! Choose between single and multi-player options, invite any friend you like, and enjoy the races together on a split screen!
Discover a dark and deadly city with neon lights and enjoy your free ride with luxurious and futuristic car options! Try your chance at difficult races and work on your driving skills on a narrow track used by four professionals at the same time. Wait for an opening to leave your enemies disqualified, keep your place in the front by blocking the way, and use every factor to your advantage. Earn money from the races you win and buy new cars that show your style. You can also watch short ads to earn 500$ and make some quick money to get your hands on that sweet ride! Check out all options from trucks and block cars to motorbikes and find what suits you. Try all game modes and share the fun with your friends. Play the free ride to explore the city without any limits. Have fun!
If you like this dark-themed race with modes, you can check out our other Racing Games to find games with similar features!
Developer
Vitalitygames.com developed 2 Player Dark Racing.
Release Date
August 3, 2022
Features
Colorful 3D graphics
Neon theme and stunning backgrounds
Various vehicle options
Multiplayer, free-ride, and racing modes
Controls
Use "W, A, S, D" to play.