Play Now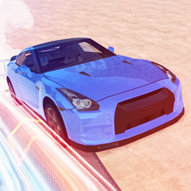 In GTR Drift & Stunt, get ready for the most exciting drifting experience in your life! You aim to customize your car and show your stunt skills! This racing game offers you the most amazing driving experience in a big city! If you are ready for an adventure, wear your belt!
Driving freely in a big city without the traffic is a lot of peoples dream! In this racing game, you have the opportunity to do this! The game starts in the beautiful city with your top model car. You will face enthusing paths and high ramps! You aim to do stunts on the high ramps to get extra points, there are no levels to pass. You can use your keyboard to drive and direct the car. Press F if you want to boost your speed. If you can't slow down the car, you can use the G key for a hand brake. The game begins with a close-up, but by pressing C you can adjust the camera to the distance shot. Also, from wheels, steering assistance, settings to colors, you can customize your vehicle. You may press Y as well to adjust the color of the vehicle. Wear your belt and start the most exciting drifting game!
Do you trust your skills in racing games? If so, take the different challenges in our collection of free and online racing games.
Developer
Fuego! Games developed this game.
Release Date
August 12, 2020
Features
3D graphics
Simulation game
Drifting
Customizable cars
Controls
To direct the car, you can use right and left arrows, up arrow to drive forward, down arrow to drive back, F button to increase speed, G button to slow down, C button to change the camera, and Y button to change the color of the car.