Play Now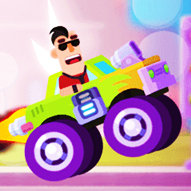 In Racing Masters, keep your eyes on the prize and road. The race of your life is about to begin! Are you ready to face other racers and reach the finish line before them?
Do you feel the need? The need for speed! Aye, we certainly do! In this game, your objective is to reach the finish line first and complete each level. In the game, your car moves on its own but there are some power-ups you need to use to finish the race in the first place. You can see these power-ups at the bottom of the screen. You can use the nitro booster to pick up the speed. Oh, everyone else in the game will eat your dust if you use this power-up. You can use the shield to save yourself from the missiles other racers send your way. Every car has a health bar, so it's important to use this shield. We don't want to talk about what will happen if you don't. You can see where the finish line is and how close you are to it at the top of the screen. Take the coins you see along the way and win each race to win gems. With the gems and coins, you can buy new cars and new power-ups to make it easier for you to win. Time to floor the gas pedal, pal!
If you can't get enough of racing, check our collection of online and free racing games to browse more titles. Good luck!
Release Date
May 14, 2020.
Features
Colorful 2D graphics
Lots of upgrades to buy
Fun gameplay
100 levels to complete
Controls
You can use your mouse to play this game.