Play Now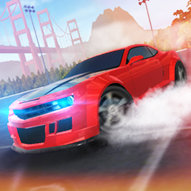 In Furious Drift, it's time to unleash your inner adrenaline junkie. With a spark in your eyes and white knuckles tight, it's time to quench your thirst with gasoline. Are you ready to drift through different race tracks and show them who's the boss?
If you're a thrill-seeker, you've come to the perfect place. In this game, your objective is to drift as much as you can and complete the objectives of each map. There are 15 different tracks that allow you to race through the city, desert, and much more. There are also 3 different game modes with different objectives. In classic mode, you need to drift as much as you can and get enough points to win. In the burnout mode, complete all the tasks given to you. And in the checkpoint mode, get drift points and collect checkpoints. During each race, keep an eye on the time at the right corner of the screen and try to avoid bumping into the walls. As you complete levels, you'll get money that you can use to unlock new maps and buy new cars. You can also use the money to customize your car. Come on then. It's time to rev the engine!
If you enjoyed this game, be sure to play RX7 Drift 3D and perform awesome drifts!
Developer
Developed by Fuego! Games.
Release Date
May 7, 2020.
Features
3 different game modes
Different race tracks to drift through
In-game shop to buy new cars and upgrade your car
Entertaining gameplay
Controls
Use WASD keys to move your car. Space bar to use hand brakes.