Play Now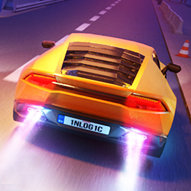 In Drag Racing Rivals get ready to own the streets tonight. The roads are empty, the crowd is cheering and the whistles are deafening. Everyone is waiting for the race to start. Feel the thrill of speed and let the drag race begin!
Are you feeling a bit fast and furious? Yeah, you're in the mood to start your first race. Get into the car and get ready to conquer the streets. Your objective is to reach the finish line before your opponent does. You can start the game by clicking the race button in the bottom right corner of the screen. To start the race, click on the pedal icon on the screen and keep the needle on the green marker. To change gear, you have to do the same. Wait until the rev needle hits the green marker. Do these steps and your opponents don't stand a chance. There are 3 game difficulties: easy, normal, and hard. Since this is your first time, you should start from the bottom and work your way up. If you try the hard mode first, they'll eat you alive there. Don't say we didn't warn you! When you win a race, you get coins. With the coins, you can upgrade and customize your car. And who knows, maybe even buy a new car. Just be sure to check the in-game shop regularly to buy upgrades. That's the only way you'll be able to defeat your opponents in higher tiers. Good luck!
If you want to play more games like this one, be sure to check our collection of online racing games to browse more titles. Enjoy!
Developer
Developed by Inlogic Software.
Release Date
May 25, 2020.
Features
Many upgrades to buy
In-game shop to buy new cars
3 game difficulties
Many customization options
Controls
You can use your mouse to play.