Play Now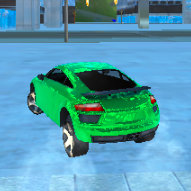 In City Car Stunt 4, it's time to tear up the track now! Be ready for the most amazing race of your life! In this race, there will be the best drivers on the racetrack! Are you ready to compete with them? Good luck!
If you have everything under control, you are not moving fast enough! Yes, you need to push the limits to win in this game! Are you ready to tear up the roads? Let's pick up your car and jump into the race! There are 13 different cars in this game to choose from, all of them has different features like speed, acceleration, brake power, and steering sensitivity. The game also can be played as both 1 player and 2 players. Don't forget! You need to control both cars when you choose 2 players mode. You can use your WASD keys to control the first car, and arrow keys to control the second one. You may either choose to drive freely or choose to race and watch the other players lose. 12 levels are waiting for you to complete! Don't forget to collect diamonds in free driving mode, they will be required when you want to upgrade your car. You need to drive very carefully; the roads are wiggly. You don't want to start over the race every time! Are you ready to drive like crazy? You can also invite your friends to challenge them! Have fun playing!
If you want to play more racing games, and try another one similar to City Car Stunt 4, then be sure to check GTR Drift Stunt, too.
Developer
RHM Interactive developed City Car Stunt 4.
Release Date
January 06, 2021
Features
3D graphics
2 different drive modes
12 races to complete
Different cars to upgrade
Controls
You can use your arrow keys or WASD keys to play this game.