Play Now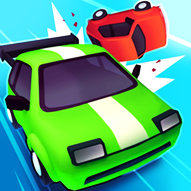 Road Crash is the most fun racing game! Because in this race, you're going to have to crash your car into others to throw them out of the road and try to be the first one to cross the finish line! There are rewards at every twist and turn. Each race will reward you with some gold! If you are ready, wear your seat belt and start the race!
In this racing game, you will race and crush your opponent to earn gold. There are so many different racing circuits and few races for each area such as sunny beaches and icy landscapes. You can use your keyboard to drive. After racing, with the gold you earned, you can collect and merge cars to create faster cars from muscle cars to super-speedy sports cars! When you are merging cars, you'll be offered more gold and diamonds, too. You can also level up and earn gold just by merging vehicles. Your main goal is to be the first one on the finish line so aim to get boosters to speed through your opponent! When you move ramp boost, it will throw you to the front of your opponent! Win the race and have fun!
If you want to try another skill game similar to Road Crash, then be sure to check Two Punk Racing, too.
Developer
Lucky Kat Studios developed Road Crush.
Release Date
October, 2020
Features
Plenty of cars to unlock and merge
Unlockable race zones
Several boosters to take
3D colorful graphics
Controls
You can use AD or left and right arrows to play.