Play Now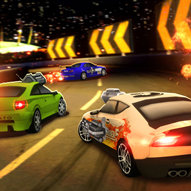 In Burnin Rubber 5 XS, be prepared for a deadly and extreme race! Forget regular car races because the ones you'll drive in this game are armed to the teeth! Are you ready for a fatal race where winning means staying alive?
Wear your helmet, fasten your seatbelt, and floor the gas! Your opponents are waiting for you at the starting line, so you better be ready! Your objective in this game is to complete each level by completing the different goals in it. Before you start the game, you can pick a vehicle from different options, buy and add weapons to your car, and select a level. In the beginning, many options are locked, but you can unlock them with gold or by completing levels. When in the race, collect nitro tokens to boost your speed, but keep in mind that the drivers you pass will attack you. Avoid their bullets and try to overcome the ones in front of you! Collect achievements to earn a special prize, and show others that you're the fastest and the most talented racer in the world! Good luck!
Keep the engines running as there are many more games to play in our collection of free and online racing games. Enjoy!
Developer
Xform developed Burnin Rubber 5 XS.
Release Date
2020
Features
Colorful 3D graphics
10 different achievements to earn
Intuitive controls
Entertaining and fast-paced gameplay
12 different levels to complete
20 different vehicles to unlock and drive
Multiple weapons to use
Controls
Use the arrow keys or the WASD keys to drive your vehicle. Press SHIFT to drift. Press Z to fire primary and the X to fire secondary weapon.