Play Now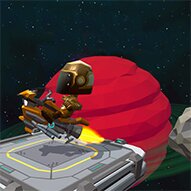 Compete against friends and bots, explore challenging racetracks built in space, and defeat your opponents in three optional difficulties in 2 Player Moto Racing! Earn from your victories, save your gold, and unlock new motorcycles and skins! Explore the depths of space while staying at the top of the winning list!
First, you can choose between one-player and two-player options and move on to see the control keys. Now you can check out the vehicle options and skins. There are four more motorcycle and skins waiting for you to unlock and try them on the field! Let's see the levels! Levels and difficulty options can be adjusted here. You can start with easy and then try medium and ultimately hard. The tracks are long and challenging, but you can use the nitro to gain a temporary speed boost and get ahead of your opponents. Kick other players off the track while staying out of their range and keeping your balance. Invite a friend to take part in the same race and challenge each other as well as bots!
If you like multiplayer races, you can check out City Bike Stunt 2, a realistic multiplayer moto race!
Developer
Vitalitygames.com developed 2 Player Moto Racing.
Release Date
May 18, 2022
Features
Nice 3D graphics
Stunning theme
Challenging and detailed tracks
1P and 2P options
Available on mobile devices
Controls
Single-player: use arrow keys to move, shift for nitro, "X, C" to kick others, and "H" to respawn.
Two-player: Player 1 can use "S, D, E, F" to move, shift for nitro, "W, R" to kick, and "C" to respawn, while Player 2 can use the arrow keys to move, spacebar for nitro, "N, M" to kick, and "H" to respawn.