Play Now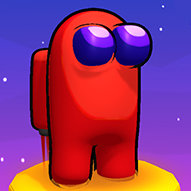 In Fall Race Season 2, be ready to survive in this crazy race! Your character is so cute, but its cuteness doesn't make him win the race! We need to help him to become the first one in the finish line! How many races do you think you can win? Let's jump in the game and see! Good luck!
Are you ready to go head-to-head? This is not an ordinary racing game, this time you are on a platform in the sky with the other 30 opponents. Your objective in this game is to become the first one at the finish line in every race. If you are ready to beat your opponents, let's jump in the game! Before starting the race, you first should choose a skin for your character, and wait for the others. When everybody is ready at the starting line, the race will begin! You can use the arrow keys or WASD keys to run. In the beginning, there will be 30 people in the race, but as you close to the finish line, some of them will be eliminated. So, only a few who manage to cross the finish line can continue this adventure and take part in the other races. Will you be able to be one of them? To continue on this race, avoid all obstacles as clearly as possible, dodge the falling bricks, climb over cliffs or clear door sliders, and manage to capture the crown to achieve glory! Let's win the races and collect the gems to get a new skin!
There are more games to play like this one in our collection of online racing games. Enjoy!
Developer
Hihoy developed Fall Race Season 2.
Release Date
February 3, 2021
Features
3D graphics
Multiplayer game
Challenging gameplay
Entertaining game
Controls
You can use your arrow keys to play this game.