Play Now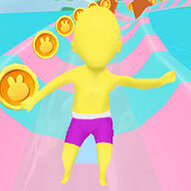 Aquapark Game is here to make you refresh you on these hot summer days! We are taking you to the biggest aquapark in the world! But you also have some missions to complete! Are you ready to jump into the game and find out your mission? Enjoy!
Have you ever had a summer vacation where you haven't been to an aquapark? We thought so too. This time we are going to the biggest one in the world! And you will race against the other to win! If you are ready for the racing, you can start the game by clicking on the play button, but before that, you should choose a character and enter your name. Your objective is to win the race, so you need to reach the finish line before anyone does. As you proceed with the game, you can unlock different characters to choose from. As it is a multiplayer game, you will race with the other players. You can play single or create a team and race together. The team that gets the highest point wins the race. You will see the progress bar at the top of the screen, follow the race from there. You will also find some boosters on your way to slide, try not to miss any of them! If you want to win the race you should follow the push of the water. Don't forget! When someone reaches the finish line, the race will end in 5 seconds. Let's jump into the game and win this race!
Do you want to play more games like this one? If so, take the different challenges in our collection of free and online IO games.
Developer
YAD.Com developed Aquapark Game.
Release Date
January 2, 2020
Features
Multiplayer game
Different characters to unlock
2 modes
Entertaining gameplay
Controls
You can use your mouse to play this game.