Play Now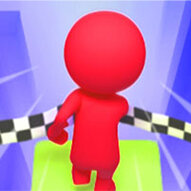 Be ready for a non-stop running adventure after which you will not feel your legs anymore! Or should we say your hands? Grab your mouse, take control of your character, and outrace your opponents. We promise it won't hurt. Or won't hurt too much at least. Do you have the guts to run on these crazy platforms and reach the finish line no matter what it costs?
Welcome to one of the biggest running competitions on our game platform! This one will challenge you a bit with its paths and trickster competitors. But featuring 3D high-quality, colorful graphics and various skins to unlock, you will be addicted to this adventure! Your objective is to reach the finish line before your opponents as it is in any other running competition. But in this competition, your only concern is not winning the race but also finishing the round in one piece. Because the platforms are so high, and you can fall down easily while controlling your character. You can use your mouse or finger to direct your little character. Swipe the mouse or finger to make sure he can follow the path. On the way, be sure to collect as many coins as possible so that you can unlock new skins and accessories. Let's start the competition to take the crown from the others now! Shall we?
If you enjoyed during this thrilling competition and up for another one as fun as this title, then be sure to check Shift Run.
Developer
YAD.Com developed this game.
Release Date
November 25, 2020
Features
3D high-quality and colorful graphics
Various skins to unluck from the in-game shop
Endless running race
Simple controls
Controls
You can use your mouse to play this game.