Play Now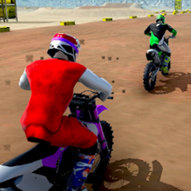 Super MX The Champion is the biggest motorcycle race ever! What is the most satisfactory thing in the world for a motorbiker? Yes, it is to be the first in the biggest and most exciting race! If you think you are the one, then get on your motorbike! Wear your helmet and start the race!
In Super MX The Champion, what you should do to be the champion is to do some practice first in the spadework. After you warm up in the preparation field, you can start the real race. First, tour around the area to get used to the bike and know the field. When you are ready to start the race, stand on the green and yellow light beams, and press the space button. If you wish, you can stay in the preparation field and bike freely. In the bottom left, you will see the "change the map" sign, and you have two different map options. The first one is an open field and has high ramps without barriers, and the other is surrounded with barriers and there is an audience on the racing stage. This is a single-player game; you can only control one biker, and you can play with WASD or arrow keys. Use the left and right arrow keys to move. To ride, use up arrow and space button to start the race. If you are ready, choose your field and start the race! Good luck!
Do you want more excitement? If you say yes, play our Burning Rubber 5 XS game free and online now!
Developer
Barnzmu developed Super MX - The Champion.
Release Date
July 20, 2020
Features
2D Colorful graphics
Multiple maps
Action-packed gameplay
Intuitive controls
Controls
Use WASD or arrow keys to drive the bike.