Play Now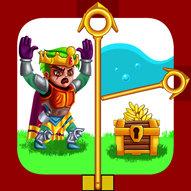 In Love and Treasure Quest, be prepared to go on an exciting adventure with the brave knight! The land is filled with monsters to defeat, treasures to collect, and princesses to save. Do you have what it takes to help this hero through multiple challenging levels of this addictive game?
Wear your armor, unsheathe your sword, and get ready to brave the dangers of the land. The objective of this game is simple and fun. All you need to do is complete each level by keeping the knight alive by pulling the pins in the correct order. You can play the game with your mouse, so click on the play button to start. On each level, you'll see pins in different places. These hold your character, the enemies, the princess, or the treasure. They also keep the lava and water away. To complete a level, you should make your knight reach either the princess or the treasure. But you must be careful! The death of your character or the princess or the destruction of the treasure will end the level. Try your best to figure out the correct order of pulling the pins! Completing levels give you gold coins, and you can use these to build a castle! Have fun playing!
Check our category of more free and online puzzle games to challenge yourself and have some fun! Enjoy!
Developer
Hit Games developed Love and Treasure Quest.
Release Date
December 16, 2020
Features
Colorful 2D graphics
Entertaining and addictive gameplay
Intuitive controls
Multiple levels to complete
Can build your own castle with your earnings
Controls
You can use your mouse to play this game.