Play Now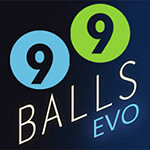 99 Balls Evo is the new version of the popular 99 Balls series that will make you sit in front of the screen for hours of fun! If you trust your shooting skills well enough, there is no limit to the achievements you are about to get. Make your shot with only one click and enjoy this endless adventure now!
This shooting the bubbles themed fun game is no like the others regardless of how it seems! Because in this fun skill game, your objective is to prevent the numbered colorful balls touch the ground by shooting them with your ball. Aim at your targets by dragging your mouse to launch your ball weapon. The numbers show the hits needed for your targets to be destroyed, and their colors change according to the hit numbers. Click on your ball and drag your mouse to determine its direction. Try to collect the stars because they unlock new bouncing movements for your ball. The circles with the same shape as your ball increase your ball numbers, and by collecting them, you can hit more targets at once. Don't forget to check the number of your balls at the left corner of the game screen. If you are ready, let's start this adventure now! Good luck and have fun!
Be sure to check our collection of free and online skill games by clicking here to browse more fun titles like this amazing game.
Developer
Agame developed 99 Balls Evo.
Release Date
July 4, 2017
Features
3D colorful graphics
Endless shooting adventure to enjoy
Multiple ball weapons to use
Entertaining and addictive gameplay
Controls
You can use your mouse to play this game.