Play Now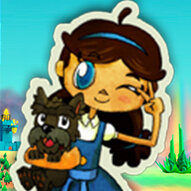 In Pinball of Oz, we are off to see the wizard, the wonderful Wizard of Oz. You better put on your seatbelt because Kansas is going bye-bye! It all started with a cyclone. There was a hurricane and Dorothy and her dog Toto found themselves in a tornado. However, when they opened their eyes, they were not in Kansas. Are you ready to join them for a wonderful adventure in the Land of Oz?
The Land of Oz may sound perfect to you, but something terrible happened when Dorothy's house landed on the ground. It crushed the Wicked Witch of the East. Now, her sister seeks revenge. Your objective is to complete each level and make sure she finds the Wizard of Oz, so she can go back home. At each level, your objective is going to change. You'll need to free the munchkins, gather stars, and unleash the rainbow magic. To play, you'll need to destroy the obstacles, hit the munchkins, and rainbow magic with the ball. Aim carefully and make sure each shot counts. As the game progresses, you'll meet new characters like the Tin Man, Scarecrow, and Cowardly Lion. Each of them will help you in different ways and can also be played. Have fun!
Looking for another skill game like this one? Then you can check out Bubble Trouble! Enjoy!
Developer
Agame developed Pinball of Oz.
Release Date
May 03, 2017
Features
Intuitive controls
Multiple levels to complete
Different characters to play
Nice 2D graphics
Controls
You can use your mouse to play this game.