Play Now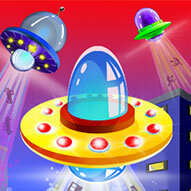 Alien Invaders.io welcomes you to a world on the brink of destruction! The alien invasion is real and they have taken you to be one of them. But you are all rivals now and the one who makes the most destruction will be the superior. You gotta destroy everything you see, including your own species to declare your power. Get your fingers ready and start ruining the world now!
After all other planets, the aliens are in the world now. What is worse, you are one of them! That is why you should show no mercy. Vandalize everything that moves to increase your power over others. The more objects you absorb, the bigger and powerful you get. If you absorb other UFOs, you will get bigger. By doing so, you can also take your place at the top of the leaderboard! Be careful, though! Your rivals are from all around the planet, sworn to reach victory! If a bigger UFO absorbs you, you will respawn like from the very beginning. Each kill and destruction will earn you rewards that you can use to buy new skins for your ship. There are 3 modes in this fun io game. You can play in classic, solo, or battle mode. For the utmost thrill, you should try the battle mode and defeat all other players in no time! Good luck and have fun playing!
If you are up for defeating more rivals and enemies in another thrilling io game, then be sure to check Murder.io by clicking here.
Developer
Super Apps developed Alien Invaders.io.
Release Date
March 11, 2021
Features
3D colorful graphics
Players from all around the world
3 game modes to enjoy
Unlocking new skins from the in-game shop
Controls
You can use your mouse or finger to play this game.