Play Now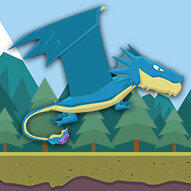 In Dragon Killer, the day is alive with the music of dragons. They may be great creatures to behold, but they are also extremely dangerous considering they breathe fire. The bad news is, they are coming to your kingdom to erase humanity from the face of the Earth. They may be beautiful and all, but this can't be allowed. Are you ready to prove that you're an amazing marksman and send these creatures into the abyss?
A dragon's armor may be like tenfold shields, their teeth are like swords, their wings are a hurricane and their breath death! But there's something they don't know. You are the best defense this ancient kingdom has and you're waiting for them without fear in your eyes. Your objective is simple. Kill as many dragons as you can to earn a high score. When you see a dragon, click on the screen and hold it until your spear is in line with the creature. Aim carefully and don't miss. If you miss too many times, only your ashes will remain as a memory. You'll earn coins for your good deeds as you play the game. You can use the gold to unlock new characters. Have fun playing!
Do you enjoy living the life of a warrior? Then you should definitely check out our collection of online adventure games to prove your valor again! Enjoy!
Developer
Vseigru.net developed Dragon Killer.
Release Date
January 21, 2019
Features
Colorful 2D graphics
Entertaining gameplay
3 different character skins
Intuitive controls
Controls
You can use your mouse to play this game.