Play Now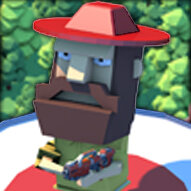 In Cube City Wars, get ready for the most entertaining battle ever! You will control both players here in this game and the first player who racks up 10 kills wins the game! Will you be able to be the survivor, or will you get killed? Have fun!
Forget about all the war games you have played so far! This cube city war is here to entertain you! Your objective is to be the first player who reaches 10 kills, but you will control both players. To control your first player, you can use WASD keys, and control the other one you can use the arrow keys. You will win the battle if you use weapons, cars, and airdrops better than the other ones. You will also fight against CPU players. You should protect yourself from them to survive! You are equipped with a weapon and you can change weapons by picking up the various parachute drops that are scattered around the city. You can also jump into a car to drive around the city quicker and reach your opponents by using the tab key. You can follow the scoreboard at the top of the screen, the player who destroys the opponent's health bar 10 times, wins the game. Are you ready for this entertaining battle? Then jump into the game and show your skills! Good luck with surviving!
If you liked Cube City Wars, check our collection of free and online 2 player games by clicking here!
Developer
RHM Interactive developed Cube City Wars.
Release Date
February 7, 2019
Features
2 player game
Multiple weapons to use
Different items to unlock
Intuitive gameplay
Controls
To control the player 1 use WASD, spacebar, tab, and E key. To control the player 2, use your arrow keys, L, K and O keys.