Play Now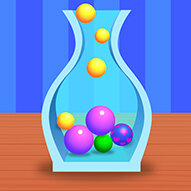 In Fit Balls, the colorful world of the balls is waiting for you! You need to fit these balls into the unique shaped boxes without touching the limit line! Wondering if you can do this? Then jump in the game and see your talents! Have fun!
You have an interesting job today, for a physics project, you need to fit the balls that you see at the bottom of the screen in the jars. But you shouldn't pass the limit of the jar that is specified with the black line. Are you excited to see the levels and complete this job? Then jump into the game and click on the play button to start the game. In the first levels, it will be easier, and you probably will be able to fit all the balls in a jar, but as you proceed with the game, it will be getting harder and you will have a hard time fitting the balls. In each level, the game will give you the numbers of each ball colored and sized differently, and you have to use all the balls to pass a level. You need to press and hold at the ball types to release them into the jar. At the end of the level, if all the balls are inside and under the black line, you pass the level. Will you be able to fill the jars with the balls without overflowing? Good luck!
If you like to play games like this one, and try another one similar to Fit Balls, then be sure to check Fit in the Wall, too.
Developer
BPTop developed Fit Balls.
Release Date
March 3, 2021
Features
3D colorful graphics
Several challenging levels to pass
New skins to be unlocked from the in-game shop
Simple controls
Controls
You can use your mouse to play this game.