Stickman Armed Assassin Cold Space
Play Now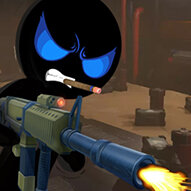 In Stickman Armed Assassin Cold Space, you are sent to planet nu-2507 to stop a rebellion! You will kill all the rebels, rescue some military and medical staff, and obtain intelligence about the new bioweapon system! Will you be able to complete this mission without getting killed? Good luck!
It is time to build up your courage because a vital mission is waiting for you on planet nu- 2507! There has been a rebellion and you are sent to stop it! The laboratory here was built to develop a secret biological weapon, some of the workers tried to steal it, so they took doctors and scientists as hostages. They are not willing to pull away! So, you need to kill all the rebels! If you think you are ready to accomplish this mission, grab your gun and jump into the game! Rebels are waiting for you at every corner, you should watch out back all the time! When you see them, you should immediately kill them before they do. Use your right mouse button to aim, and left button to shoot! you can also change your weapon with the mouse wheel. You can follow your health point at the left bottom of the screen and your ammo at the left bottom. Do you think you can complete the first level and move on to the next ones? Good luck, soldier!
Do you want to play more games like this one? If so, take the different challenges in our collection of free and online action games.
Developer
kiz10.com developed Stickman Armed Assassin Cold Space.
Release Date
March 11, 2021
Features
Multiple weapon choices
3D graphics
20 levels to complete
Missions to accomplish
Controls
W, A, S, D to move around. Mouse for camera control. Left mouse button to shoot. Right mouse button to aim. Mouse wheel to change weapons. G for grenades. F to pick up items. Shift to run. CTRL to crouch. Space bar to jump.