Play Now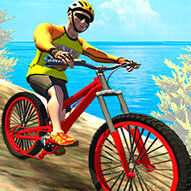 MX Offroad is a thrilling bike simulation that will make you feel bike through the mountains right here, right now! You can grab a friend of yours and enjoy the ride together if you want. Take the free ride to know the environment and the controls or you can start your adventure right away! Click on the play button and let's find out what you can do more!
MX Offroad Mountain Bike invites you to join a riding challenge on high mountains. Featuring 3D graphics creating a biking simulation, and challenging roads that you will follow, this game will lock you in front of the screen for hours of fun! If you want a companion to share the difficulties of the road, you can invite a friend over and select the 2-player mode. If you are one of the lone wolves, you can select the single-player mode and defeat the mountains on your own. To practice your riding skills a little and get to know the controls, you can take the free ride mode before throwing yourself into the high mountains. When you are ready for the challenge, you can select your bike and skin for the adventure. As you proceed in the game, you can unlock more bikes, skins, and charms to add more fun to the game. Good luck and be careful!
Be sure to check our collection of free and online bike games by clicking here to browse more fun and thrilling titles like this game.
Developer
RHM Interactive developed this game.
Release Date
March 2, 2021
Features
3D biking simulation with colorful graphics
Single-player and 2-player modes to choose
Free riding and mountain riding modes to enjoy
Challenging levels to complete
Controls
Player 1: "W, A, S, D" keys. Player 2: "ARROW KEYS". The re-spawn button or the "R" key. "SPACE BAR" for the brake.