Adam and Eve Crossy River
Play Now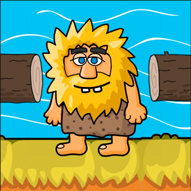 In Adam and Eve Crossy River, join the adventurous couple and help them overcome the challenges of traveling! Even crossing a river is dangerous in prehistoric times, so roll up your sleeves and help Adam and Eve! How far do you think you can take them?
The grass seems greener on the other side, so this duo decided to see it for themselves. Your objective in this addictive fun game is to take control of Adam or, for the first time in the series, Eve, and make them travel as far as you can by avoiding all kinds of obstacles. If you're ready for this adventure, then click on the play button on the main menu to start the game. To control your character, use the arrow keys. Pay attention to your surroundings, as things can get a bit intense! Before moving forward, wait for the right moment and make sure your character can land on a safe spot. Jump on logs or turtles in the river to pass through, but beware of the animals on land. Touching them or falling into the water ends the game. Try your best to collect as many foods as you can to increase your points. Keep in mind that you can't go back! Good luck and enjoy!
Are you a fan of this series? Then go and check our other wildly popular game, Adam and Eve 8 too! Have fun playing!
Developer
Functu developed Adam and Eve Crossy River.
Release Date
November 30, 2020
Features
Colorful 2D graphics
Challenging level design
Can control Eve for the first time ever!
Intuitive controls
Entertaining and addictive gameplay
Controls
You can use the arrow keys to play this game.