Play Now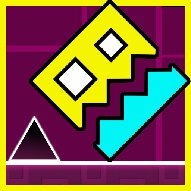 You will love to hate the challenging levels of Geometry Jump 2! Explore the impossible parkour platforms in this neon world and help the square athlete reach the finish line! Test your reflexes and patience with fifteen different game modes, and beat these geometrical shapes in their own game!
You will master the control of one single command with this game. These levels push you to time your jumps precisely while you have no control over anything else. The square will do the running and flying while you only sit there and press one button. Sounds easy, right? Let's see! Start with any mode you want. These stages all have different features with basically the same rule: do not hit the spikes. Watch out for the incoming dangers and keep your square safe from all threats. You can check the level percentage you are on from the bar above. Levels have portals that function as checkpoints placed at certain percentages, and once you pass that point, you can restart from there even after you die. Take a shot at all modes, take the square to the end, and check the game shop to customize it with fabulous character skins! Good luck!
If you like this thrilling platform game, you can check out Super Oliver World and explore the pixel lands with Oliver!
Developer
GM Media developed Geometry Jump 2.
Release Date
September 14, 2022
Features
Vibrant neon theme
Funny character design
15 challenging levels
Unlockable looks
Available on mobile devices
Controls
Use your mouse, the spacebar, or "W" on your PC, and tap on your mobile device.