Play Now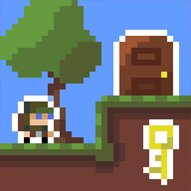 Test your patience and reflexes with Pixel Hardcore! Not everyone has the mental and physical capacity to complete these fifteen levels. Let's see where you stand! Prepare your nerves for uniquely designed stages built to test your abilities! Learn all advantages and disadvantages of all levels and build specific tactics to survive them!
You will have mastered the three main commands once this game is finished with you! These levels will hit you harder every time you think you got them. So, take a sip from your tea, take a deep breath, and do not forget to count to ten every time you feel like losing it. You can use the "left", "right", and "up" commands to move and jump. You can also double jump by hitting the jump button twice but be careful with the timing. Keep your eyes open, and do not stop trying until you solve the right movement combinations because the ground is made of spikes, and the bridges are decorated with saws! You can keep moving mid-air; use it to your advantage. Dodge the moving saws, enemies, and angry chicken, grab the golden key, and return to the door carefully. Let's see if you have what it takes to complete all levels!
If you like this challenging adventure, you can check out our other Skill Games to find more games like this!
Developer
GamesComeFirst developed Pixel Hardcore.
Release Date
August 16, 2022
Features
Cute pixel theme and characters
Hilarious enemies and challenges
15 extremely difficult levels
Unlockable level passes
Available on mobile
Controls
Use "A, D" to move, and "W" to jump.