Play Now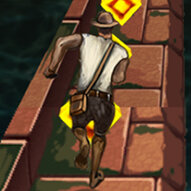 Temple Quest invites you to a fantastic running adventure in which you will lose yourself trying to survive! The mystical temple is calling to be discovered. The job is all up to you now. It is going to be a very long journey and you will face many obstacles to fail you. But! You gotta gather your courage and start this running craze now!
In this fun extremely exciting running adventure, you are taking the place of an archeologist. You can call yourself Indiana Jones the second if you want! Maybe you can even outrace him with your super running skills, huh? In this endless adventure, your objective is to make as many meters as you can by increasing your scores each time! The controls are quite simple. Use your mouse, click on the screen swipe it through the direction you want your character to go. Or you can simply swipe your fingers if you are connecting on your mobile. You should collect as many coins as possible too on your way. You can use your earnings to buy various boosters to help you out during the journey. Don't worry! You will find some boosters on the way and try to collect them without getting into any trouble. Whatever you do, don't let this creepy temple beats you up! Run for your life and never look back!
If you want to try another adventurous game similar to this one, then be sure to check Jungle Dash Mania.
Developer
Inlogic Software developed this game.
Release Date
April 12, 2019
Features
2D colorful graphics
Boosters to be unlocked from the in-game shop
Endless running adventure
Simple controls
Controls
You can use your mouse to play this game.