Play Now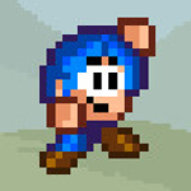 In Bloo Kid 2, we have an important mission to complete! Actually, not we, you have to complete this mission! After rescuing his girlfriend from the hands of the evil wizard, Bloo Kid and Pink Girl enjoy life with their newborn "Pink Kid". But then, a whole new adventure starts again! Will you able to complete this mission or else leave them? Have fun!
Bloo Kid, Pink Girl, and their newborn Pink Kid have been living a peaceful life after he rescued them, but his enemies from the past have just shown again! That is why we are going on an adventure! It is a classic 2D retro-style platformer experience with a designed pixel-graphics game. Your character will run, jump, and swim his way through 5 huge worlds with twelve levels each. Your objective in this game is to complete all these levels. You'll see a lot of running enemies around. Through jumping on them, you can beat them, but whatever happens, don't let them touch you! You're going to lose a life if they do. To earn more stars, collect all the stars and complete the level before the timer ends. You may find a treasure box on your way, hop on that to reach the stars, and maybe you can even get more lives! Are you excited to jump into this adventure? Let's play! Good luck!
Do you need more games like this one? If so, take the different challenges in our collection of free and online adventure games.
Developer
winterworks GmbH developed Bloo Kid 2.
Release Date
February 11, 2011
Features
2D pixelated graphics
Arcade game
60 levels to pass
Entertaining gameplay
Controls
You can use your arrow keys to play this game.