Paw Patrol Air Controller
Play Now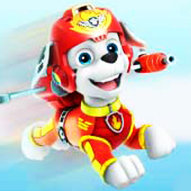 In Paw Patrol Air Controller, you have some vital missions! The Volcano Island is about to erupt and the monkeys living on the island need your help! Help the characters to fly safely and rescue the monkeys! If you cannot succeed at this mission, the villages and forests will be evaporated. There are some obstacles on the way that you should avoid. If you are ready, start the rescue journey and reach the volcano on time
Paw Patrol is ready to rescue the monkeys on Volcano Island, but they need some food to have enough energy. To fly the air controller, use your arrow keys. In the first stage, fly the air controller carefully, you need to collect pup treats while avoiding the birds and other obstacles on your way. When you collect enough treats, give them to the puppies. Monkeys are hungry as they cannot reach the trees, so help Marshall to collect the bananas and give them to the hungry monkeys. Use your mouse to feed the monkeys! In the last stage, now you need to help Rubble to collect the rocks while avoiding bats. If he can have enough rocks, he can prevent the eruption of the volcano! The village relies upon you to save them from the volcano eruption!
If you want to try another game similar to this one, then be sure to check Kumu's Adventure by clicking here.
Features
Amazing 3D graphics
Animal involved gameplay
3 different stages to play
Skill improving
Controls
Use arrow keys to play, space to turn around.