Play Now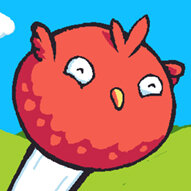 In Pichon, a cute and colorful pixel world awaits you! Featuring colorful 2D graphics, fun gameplay and a chubby bouncing bird, this game brings all the fun to your computer screen. The question is, are you ready to join in on the fun and complete all the levels?
Not all birds can fly. Some birds are just meant to be on the ground and our chubby bird is one of these birds. But this doesn't mean it can't jump. If it can't fly into different worlds and adventures, we can make sure it can jump into these adventures. Are you ready to join this birdie and jump your way through the different levels of this game? Your objective is quite simple. Collect the blue stones to open the door in each level to move on to the next one and face the challenges that await you there. You'll see many different platforms as you progress through the game. You can't jump on grass, so try to stay away from them. The star platforms can allow you to open secret passages and the green ones can make jump even higher. Beware of spikes and poisonous water cause if you wanna survive. Don't forget! This little bird can bounce his way to death anytime, so you better keep an eye on our character. Try to finish each level as quickly as possible to earn three stars. You can see the timer, how many stones you need to find, and how many times you died at the top of the screen. Good luck!
If you want to play more games like this one, you can check out our collection of online adventure games. Enjoy!
Developer
Red Mage Games developed Pichon.
Release Date
March 02, 2021
Features
Fun and addictive gameplay
20 levels to complete
Many different platforms
Colorful graphics
Controls
Use the arrow keys or the WASD keys to play.