Play Now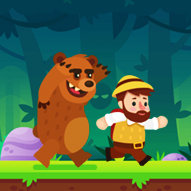 In Jungle Dash Mania, focus your attention and make the hero run as fast as he can! He needs to escape from the scary bear in the jungle! With the increasing tension, do you have the courage to help him to run without obstacles, or will you allow him to be beaten by the bear?
It is enjoyable to escape from the city and camp in the jungle on a weekend, but if you are chased by a bear, you might be annoyed! You need to run as fast as you can in this exciting game, as the scary bear is chasing your character! You aim to jump over the obstacles like stones, bones, or woods that you come across; they make you slower. Try not to hit them while running. There are no levels to pass, just go on running as you can and try to make the highest score. You can use your mouse or spacebar to jump. There are also two different boosters on the road, so don't forget to take them! One is for speeding, and the other is for a shield. The bear is angry and wild. He is craving to beat you so run fast and don't stumble on the obstacles. Good luck and have fun playing!
Do you trust your skills? If so, take the different challenges in our collection of online adventure games. Enjoy!
Developer
MarketJS developed Jungle Dash Mania
Release Date
September 07, 2020
Features
Colorful 3D graphics
Jungle theme
Adventurous gameplay
No levels to pass
Controls
You can use your mouse or keyboard to play.