Play Now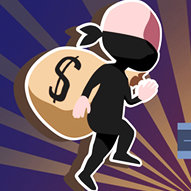 Lucky Looter is back in business. Once a thief, always a thief, right? But this time, he needs help. He is a little bit out of practice after all. Can you help him loot everything he can find and not get caught?
It's night time. Do you know what that means? It means it's time to sneak around and find empty houses to loot. Heh heh heh! Oh no. Do you see the light coming from the inside? Someone is in the house! It's too late to back out now. Your objective is to complete each level, steal everything in the house, and avoid getting caught. You have to be as silent as a dead and act fast to avoid being put behind bars. To play, you can use your mouse. Simply click on the screen and hold the left mouse button. Then move the mouse cursor around to control the movements of the sneaky little looter. You'll see many objects around the house. Take them all to get 3 stars. The progress bar is at the top of the screen. There's one thing, though. There's a guard inside. But luckily, it's dark so they can't see you. Don't come near their flashlight or you know what will happen. They also have a certain route which is shown in pink on the ground. Remain in the shadows and loot them all!
If you want to feel the thrill of more time, check our collection of online adventure games to browse similar titles to this one. Have fun!
Developer
Developed by BPTop.
Release Date
April 28, 2020
Features
Many levels to complete.
Different cars to buy
Fun gameplay
Intuitive controls
Controls
You can use your mouse to play this game.