Play Now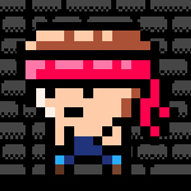 In Dungeon Fury, deadly traps and challenging missions await you to test your skills! There are numerous dungeons that you should get into, and they look like a dark, scary maze! If you have the guts to collect all the precious golds and complete the levels without failing, let this creepy adventure begin now!
Being all alone in such a place is one thing but passing all the way through various creepy dungeons full of traps and obstacles like sharp spikes and green poisons, is a whole another thing that needs courage. As the best hero of our platform, only you and you alone can succeed in this deadly adventure and set yourself free from this horror. Despite the complicity, playing this fun and challenging game is so simple! You only need to click with your mouse or tap and free the remorseless courage to finish this game. Your ultimate objective is to open the gates to escape from the dungeons. To do so, you gotta leave no gold behind! Until you collect all the golds, you won't be able to open the gate to pass to the following level. Let's not forget about the walls! Once you hit a surface like walls, your direction will change to the opposite way. So, you should have your eyes wide open and expect anything from this scary place. Good luck! We believe in you!
If you want to try a less scary and more fun game, then be sure to check Adventure Hero by clicking here.
Developer
CASoftware developed this game.
Release Date
December 15, 2020
Features
2D colorful graphics
Several dungeons to pass
Various traps and obstacles
Simple controls
Controls
You can use your mouse to play this game.