Play Now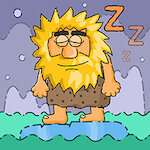 In Adam and Eve Sleepwalker, our prehistoric character never gets tired of adventure, even when he's asleep. Join him on this icy journey, and help him reach his comfy warm bed through the multiple levels. From penguins to whales, you'll meet many different characters in this game.
If there's one thing Adam loves more than adventuring, it's sleeping. But our brave caveman is a master at multitasking, so he can go on an adventure while sleeping! Your objective in this game is to complete each level by clearing the obstacles from Adam's way. Just like the other games in this popular series, you can play this game with your mouse. You'll see different objects and characters in each level. To clear the way, you should use these items in the correct order. Click on these to see if they can be used, and try to figure out the right combination. For example, you must get rid of crates blocking the way to exit. But to move them, you must get rid of the ice they're covered in. You'll need a pickaxe for that, and it belongs to a character. So you need to get it from them to clear the path! When you think you removed all the obstacles, click on Adam so he can move on to the next level. If he shrugs, there might be other things you need to do first. Good luck and have fun!
Adam may be sleeping for now, but he still needs your help in our other popular game, Adam and Eve 7. Enjoy!
Developer
Functu developed Adam and Eve Sleepwalker.
Features
Colorful 2D graphics
Entertaining gameplay
Intuitive controls
Multiple different and puzzle-filled levels
Controls
You can use your mouse to play this game.