Play Now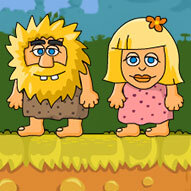 Adam and Eve GO 2 continues with new adventures of our cave people in this second GO game of the popular puzzle game series! This time Adam, the caveman, finds himself in the middle of a maze full of traps and dangers. As he always does, he must find a beautiful flower and take it to his loved one, Eve. Are you up for helping him to complete his goal?
Welcome to a whole new adventure of our famous caveman, Adam! Like the previous times, he wants to find the most beautiful flower in prehistoric times to give it to his love. But he has a dangerous journey ahead. So, he needs your help to pass all the dangers and avoid all kinds of obstacles till he reaches the flower. As it was in the first version of the GO series, you can control your character with the keyboard. You will need to find a way to open the doors by solving puzzles. Be careful about the obstacles! Wild animals, traps, and tricky paths will be waiting for you. You can see your lives from the left top of the game screen. If you lose all your lives, you'll have to start from the very beginning. Collect the fruits on the way for extra points. We are sure Eve will be happy too! Good luck and have fun playing!
If you haven't tried the first adventure of this popular series, then be sure to check Adam and Eve GO by clicking here so that you can complete the whole story!
Developer
Functu developed this game.
Release Date
March 17, 2021
Features
2D colorful graphics
15 challenging levels to complete
Various obstacles to overcome
Fun and engaging gameplay
Controls
The left and right arrow keys to move around. The up and down arrow keys to climb up and down the ladders.