Play Now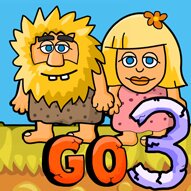 In Adam and Eve GO 3, Adam is back with another adventure. He may have the looks of a brute, but he has a heart of gold, and his heart belongs to Eve. When you find your soulmate, there is nothing you can't do to find that person, even if they are worlds away. That is the problem here. Eve is far far away. Do you think you can help Adam reach Eve?
Love is in the air tonight in prehistoric times. But, no matter how strong love is, there are so many forces in the world that can come between two lovers who love each other immensely, but nothing can keep Adam away from Eve. Your objective is to help Adam reach Eve again and help them create their own garden of love in the world. Get your handkerchiefs, everyone! This love story is going to leave everyone teary-eyed. You need to face the dangers of prehistoric times on your way to find Eve. Dinosaurs, snakes, traps, and closed doors stand between the two lovers. Find a way to get rid of them by standing on secret buttons and discover other ways along the way. Find what the Eskimos and cavemen want and deliver it to them to get the keys that will unlock closed doors. Don't forget to collect all the food along the way. After all, the stomach is the way to someone's heart, and flowers! Have fun playing!
If you want to check out Adam's other adventures, play Adam and Eve 7. Enjoy!
Developer
Functu developed Adam and Eve GO 3.
Release Date
June 03, 2021
Features
Many levels to complete
Intuitive controls
Colorful 2D graphics
Fun and addictive gameplay
Controls
You can use your mouse to play this game.