Play Now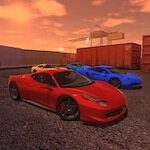 In Ado Cars Drifter, you can show your amazing driving skills and earn points for it! If you believe you're a great driver, then start the engines and floor the gas. Can you level up and unlock everything this game offers?
The objective of this game is to collect as many points as you can by drifting before you run out of time. You can start the game by clicking on the play button on the main menu. On the next screen, you can select a car from 7 different options. But at the beginning of the game, you only have only one of them available. You can unlock the rest by leveling up. After selecting a vehicle, you can pick one of the 3 different tracks. Just like the car selection, you have to unlock the 2 of them by leveling up. When you start, use the WASD keys to drive around. In the top left corner of the screen, you can see your remaining time. You should collect as many points as you can before your time runs out. To collect points, accelerate, and then make your car turn into left or right to perform a drift. The longer you maintain a drift the more points you'll get. You can check your progress from the top right corner of the screen.
For similar games, visit our collection page of online and free car games. Enjoy!
Developer
AdoLuxGames developed Ado Cars Drifter.
Release Date
July 6, 2018
Features
Different achievements to earn
Colorful 3D graphics
Intuitive controls
7 different cars that you can unlock and use
3 different tracks to unlock
Controls
You can use the WASD keys to control your vehicle.